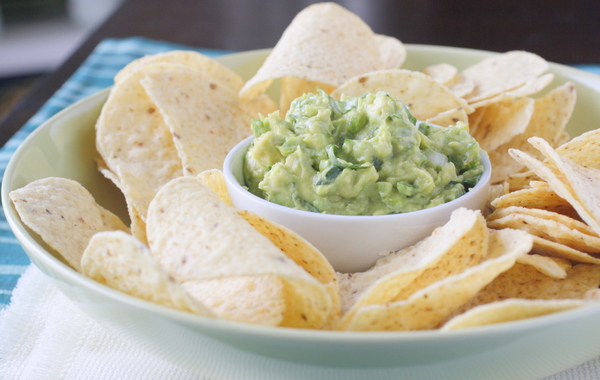 Megan's Classic Guacamole.
This guacamole is delicious. It's simple and basic, but it has the perfect blend of flavors

. It is most simple recipe that you can make successful with no time. It is only need a bowl and fork.
Ingredients
1 ripe avocado
juice from 1/2 lime
1/4 cup fresh chopped cilantro
1 green onion, chopped
1 serrano chile, seeded and minced
1 clove garlic, minced
salt
tortilla chips, for serving
Directions
Halve the avocado lengthwise and scoop out the flesh, discarding the pit. Place the avocado in a small bowl and mash with a fork. Add the lime juice, cilantro, green onion, serrano chile, and garlic. Mix until well incorporated. Season to taste with salt. Serve immediately with tortilla chips.
This simple tasty recipe by www.whatmegansmaking.com/2012/04/24
Grilled Pineapple Guacamole
Tossing in some sweetness and added texture makes an already good guacamole recipe GREA

T

.
Ingredients
1 tsp. olive oil
Half of 1 (20 oz.) can pineapple chunks
2 large avocados, pitted
1 Roma tomato, diced
1/2 red onion, finely diced
1 jalapeno pepper, seeded and finely diced
1/4 cup chopped cilantro
2 Tbsp. fresh lime juice (from 1 lime)
Kosher salt and pepper
Directions
Preheat grill pan to high heat and drizzle with olive oil.
Add half can pineapple chunks to pan; cook 4-5 minutes total, tossing frequently to lightly brown evenly. Remove pineapple chunks from pan and set aside to cool to room temperature.
Remove avocado flesh from shell and mash with a fork or potato masher. Mix in diced tomato, red onion, jalapeno, chopped cilantro, lime juice, salt and pepper. Gently mix in pineapple chunks.
Serve with tortilla chips, or as a topping to your favorite Mexican meal. Don't forget the margaritas!
This fantastic recipe by www.thecomfortofcooking.
Spicy Queso Fresco Guacamole
Ingredients
3 ripe Hass avocados
1 red jalapeno pepper, finely chopped
1 lime, juiced
1/3 cup queso fresco, crumbled
salt and pepper to taste
Directions
Cut the avocados in half lengthwise. Remove the pit from the avocado and discard. Remove the avocado from the skin, and place the avocado flesh on a cutting board. Cut the avocado in [1/2]-inch cubes and transfer the avocado to a medium sized bowl.
Add the jalapeño pepper, fresh lime juice and crumbled queso fresco to the bowl. Mash everything together with a fork until half chunky and half creamy. Season with salt and pepper to taste and serve immediately.
This new favorite recipe by whatsgabycooking.com  May 4, 2012
Grilled Guacamole
The heat from the grill brings out extra flavor and warms it enough to soften the avocado slightly
Ingredients
1 avocado
your favorite salsa
tortilla chips
Directions
Slice the avocado in half length wise and remove the pit.
Put the avocado, flesh side down, on a preheated grill (medium/high heat is best). It took my avocado about 5 minutes to get the pretty grill marks. Since all of our grills have different temperatures, it might take you a different amount of time.
Remove from the grill ad fill the 'pit hole' with your favorite salsa. Serve immediately.
If you have leftovers OR if you want to make extra, just use the remaining avocado and salsa and mix it in a bowl and voila, creamy guacamole. The charring on the avocado is delicious in guacamole!
This fancy recipe by www.fatgirltrappedinaskinnybody.com /2011/07/12 Julia
Pomegranate Cucumber Guacamole
It is fully of precious nutrients and antioxidants. This is a great, simple recipe. A great appetizer for party. Mix the mashed ripe avocados with some chopped up cucumbers and pomegranate seeds. It's way more special this way! Refreshing, sweet, lime-y…special!
2 Haas avocados
1/2 shallot, minced
Handful of pomegranate seeds
1/4 cucumber, peeled and finely chopped
1 lime
Salt
In a medium bowl, mash up both avocados. Fold in minced shallot, pomegranate seeds, cucumber. Squeeze in lime juice and mix. Salt to taste. THAT'S IT!
This fancy and creative recipe by acozykitchen.com
Edamame Guacamole
The guacamole is creamy, buttery, and delicious. Plus, it is good for you! Edamame guacamole is one of our new favorite appetizers.

Edamame Guacamole
Ingredients:
1 cup frozen shelled edamame, thawed
1 ripe avocado, peeled and pitted
1/2 cup chopped cilantro
2 cloves garlic, minced
1/4 onion, roughly chopped
1/2 jalepeno, finely chopped
Juice of 2 limes
2 to 3 tablespoons water
Salt and freshly ground black pepper, to taste
Directions:
Put edamame, avocado, cilantro, garlic, onion, jalapeno, and lime juice in the bowl of a food processor and pulse until combined. Add enough water to make a creamy consistency and pulse again. Pulse until smooth. Transfer edamame guacamole to a serving bowl and season with salt and pepper. Stir. Serve with chips or vegetables.
*Note-this guacamole is also good as a spread on sandwiches.
This tasty and creative recipe by www.twopeasandtheirpod.com
Summer Guacamole
Slightly sweet and tangy, with a juicy bite, and a little kick of heat. Like summer on a chip!
Summer Guacamole [serves 2-4]
Ingredients:
1 large avocado
1 lime [~1 Tbsp juice]
1/4 cup + 2 Tbsp strawberries, finely chopped
1/4 cup + 2 Tbsp blueberries
2oz soft goat cheese
1 Tbsp green onion, finely diced
1/2 Tbsp jalapeno, de-seeded + finely diced [optional]
3/4 tsp raw honey
1/4 + 1/8 tsp salt
Directions:
Mash the avocado with 1/2 Tbsp of the lime juice and honey.
Gently fold in the strawberries, blueberries, green onion, jalapeno, and salt.
Crumble the goat cheese over top and gently fold in.
Place in a bowl and top with 1/2 Tbsp lime juice and a sprinkle of sea salt.  Optional – Top with more blueberries and diced strawberries if desired.
note: Add more jalapeno if desired.  The spice level can really vary so be careful when adding.  The lime juice is added for flavor and to help prevent browning.  Store tightly wrapped in the fridge but best when served immediately.
This guacamole pairs really well with a spicy chipotle tortilla chip!
This tasty and fresh summer party recipe by www.edibleperspective.com
Goat Cheese and Roasted Corn Guacamole
Goat cheese in guacamole!? Yeah. Believe the hype.
Ingredients:
3 ripe Haas avocados
1/3 cup crumbled goat cheese
corn cut from 1 roasted cob*
1/4 cup chopped fresh chives
2 tablespoon fresh lemon juice
3 to 4 tablespoons chopped pickled jalapeno, (I used about 1/3 cup)
coarse sea salt and freshly ground black pepper to taste
tortilla chips for serving
*To roast the corn place corn over a low flame burner and rotate every 10 seconds to char on all sides.  If you don't have a gas burner, a outdoor grill is wonderful as is the broil setting of your oven. Cut charred corn from the cob once it's cool enough to handle.
Cut each avocado in half lengthwise.  Remove the pit from the avocado and discard.  Scoop  the meat out of the skin and place in a medium bowl.  Add the goat cheese, charred corn bits, chives, lemon juice, and jalapeno.  Mash with a fork until mostly smooth, but a few avocado chunks remain.  Season with salt and pepper.  Taste and re-season if necessary.  Serve with tortilla chips.  Guacamole can we stored in an airtight container in the refrigerator for up to one day.
This tasty and fresh summer party recipe by joythebaker.com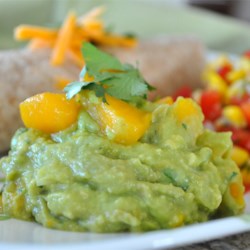 Mango Guacamole
It's sweet, tangy, and, like any good Mexican guacamole, spicy.
Ingredients
Original recipe makes

8 servings
2 tablespoons

minced white onion

2

limes, juiced

2

serrano chile peppers, or to taste

2

limes, juiced

sea salt to taste

4

ripe avocados, peeled and pitted

4 mangoes

1/4 cup

chopped fresh cilantro
Directions
Combine the onion and the juice of 2 limes in a small bowl; allow the onion to soak in the lime juice for at least 1 hour. Strain and discard the excess juice. Set the onion aside.

Grind the serrano chile peppers, the juice of 2 limes, and salt together in a food processor until no large chunks of pepper remain. Add 1 avocado and process until creamy and smooth; repeat with remaining avocados. Transfer the mixture to a serving bowl; fold the onion, cilantro, and mango into the avocado mixture. Serve at room temperature.
This fantastic recipe from allrecipes.com/recipe by Gema